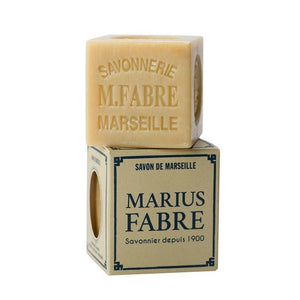 Marius Fabre
Marseille White Cube Soap 400g
Regular price
$7.75
$0.00
Unit price
per
Made of vegetable oils, free from artificial colourings, fragrance and chemical products, our cube of white Marseille soap is recommended to wash all textiles gently, in particular delicate items (baby clothes, fragile fabrics…). It is also very efficient on resistant stains.

For laundry washing:
For stubborn stains: rub the cube of soap on the stain before washing. Put the garment in your washing machine. Ideal for greasy stains, stubborn stains and shirt collars.
For hand-washing: gently washes all textiles, in particular delicate items (baby clothes, wool, silk, lace, etc.) Wet the clothes. Wash them with the Marseille soap. Make a foam. Rinse in clean water.   
To wash your hands
Can also be used for face and body cleansing
100% vegetable oils (Oleic sunflower oil, coconut oil)
Free from artificial colourings, fragrance and preservatives 
Without chemical additives
Without palm oil
 Soap 30% and over (Sodium Sunflowerseedate, Sodium Cocoate)
Also contains: Aqua, Glycerine, Sodium chloride, Sodium hydroxide
Oleic sunflower oil, an oil with many qualities
A variety of sunflowers very rich in oleic acids
A composition that is very close to olive oil, therefore very kind to the skin
Rich in Omega 9 and vitamin E, oleic sunflower oil is a natural antioxidant
A more sustainable oil
A French and European origin
The seeds of this sunflower are entirely refined in France, 200km away from Salon de Provence.
The glycerine in this Marseille soaps has not been added, it is the one that is naturally present in vegetable oil. After a 10 day cooking period and many rinses, only a small amount remains. Authentic Marseille soap, when it is made according to traditional processes, is actually glycerine free.
"Glycerine" is, however, listed in the soaps' ingredients because some traces remain. The new cosmetic regulation requires all ingredients, even in small quantities, to be stated in the list of ingredients.
---
Share this Product
---