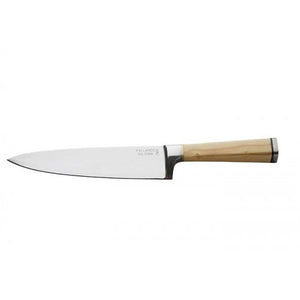 Pallares
Ianagui Japanese Knife - Stainless Steel
Regular price
$220.00
$0.00
Unit price
per
Boxwood handle with stainless steel blade. 
Hand forged in Spain
About the maker: 
The knife industry is a tradition in Solsona that dates back to the sixteenth century. The company Pallarès, founded in 1917, is today the only testimony to Solsona's renowned knife-making industry. The industry experienced its heyday during the eighteenth century when the town of Solsona had 24 knife-making workshops combined into the Guild of Saint Eligius, patron saint of knife makers. In the nineteenth century, there were eight knife-making workshops in the town and at the beginning of the twentieth century there were 12, although they were based on hand-craftsmanship and most of them missed the opportunity to modernize.
In such a climate of uncertainty, the company Pallarès was formed at the hand of brothers Lluís and Carles Pallarès Canal (Lluís's uncle was already knife maker), soon to be characterized by the good temper and good sharpness of its knives, which they sold throughout the Solsonés region and in the provinces of Barcelona and Girona.
In the 1960s, the company was run by brothers Jesús and Juli Pallarès Moncunill, Lluís's children. This saw the start the company's modernization and expansion of its market to the rest of Catalonia and throughout Spain. By mid 1980s, only 2 knife-making workshops remained and at the beginning of 1990s just one, Cuchillería Pallarès is still in business. At the beginning of this century, the third generation took over the running of the company. Modernization and adaptation to new technologies continued and the market expanded into France, Switzerland, Germany and various South American countries.
Throughout its history, Cuchillería Pallarès has chosen and still chooses the materials to be used by always seeking out the highest quality, and its main aim has been and still is the quality of the cutting edge, which is why all knives are sharpened by hand. Despite all the difficulties, Pallarès has managed to adapt to changing times without relinquishing its origins in the traditional knife-making craft of the town of Solsona.
---
Share this Product
---