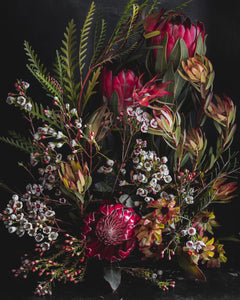 ALyssa Thorne Fine Art
Prehistoric 5x7 Art Postcard
Regular price
$10.00
$0.00
Unit price
per
These charming, satin finish postcards can actually be mailed and written on! Featuring a photograph on one side, and a postcard back on the other.
16–17pt paper thickness
Thick, luxurious cardstock
Satin - matte finish on the photo side.
New larger 5 x 7 size
Suitable for display without framing but can also be framed!
Artist Statement: 
Proteas know secrets in their DNA. 
80 million years in the soil of this earth. Captured in fossils, but thriving today. They lived when dinosaurs roamed the earth. Protea are one of the oldest flowering plant families known to us in the world. 
They have seen civilizations rise and fall. Ancient dreams and bygone histories locked in petals and thick, time-hardened stalks. Named in 1735 for Porteus, son of Poseidon. A shape changing god who embodies the liquidity and mutability of water. A god who can tell the future. From his name also comes the world "protean" - meaning capable of assuming many forms. Over 1500 species exist of this mystical bloom. Shape changing, indeed. 
They look like the foliage of some alien kingdom on another planet. Strange and prehistoric. When I think of them
---
Share this Product
---